Easy parking. Gentle elevation. Three miles round trip. And a ghost town? The Mayflower Gulch Trail gives you all this and a shockingly gorgeous basin to behold. On top of all this, the hike works well for families, especially if there exists any curiosity about the old west. The spacious gulch invites visitors to wander around and discover the fringes…a running stream, abandoned mines, and ridge line views. Caution: DO NOT inspect abandoned mines or even walk too closely; enjoy them from a distance! They can have unstable internal structures and entrances.
Explore the full Mayflower Gulch Hike profile below for trail map, driving directions, and more tips and details to help you enjoy this old west adventure near Denver.
Trail Snapshot: Mayflower Gulch Trail
| | |
| --- | --- |
| Hike Distance | 3 miles Round Trip (longer if exploring) |
| Difficulty | Easy to Moderate |
| Duration | Approx 2-3hr |
| Trail Type | Out-and-Back |
| Starting Elevation | 11,000′ |
| Elevation Gain | Approx +600′ |
| Seasons | All Seasons |
| Dogs | Allowed On Leash |
| Hike Trail Map | Click for Trail Map of Mayflower Gulch Hike |
| Denver Drive Time | 1.5 hours |
| Driving Directions to Mayflower Gulch | Click for Google Map |
| Town Nearest Hike | Copper Mountain, Colorado |
| Beauty | Valley basin, 13ers, Ghost Town |
| Activities | Hiking, Snowshoeing, Cross-country skiing |
Trailhead marker for Mayflower Gulch
Parking & Trailhead Information for Mayflower Gulch
From Denver, heading west on I-70, exit 195 for Copper Mountain. The road curves to the left, heading south into the resort area. Only six miles later along Highway 91, the free parking appears on the left (east), immediately after a short bridge over Mayflower Creek.
The Hike: Mayflower Gulch Trail
From the trailhead marker, the trail proceeds straight for approximately 1.5 miles. It's that simple! Meandering through pines, bordering the actual Mayflower Creek, hikers can devote almost all of their attention toward experiencing the trail and its surroundings. A mining remnant about 1/2-way up foreshadows the ghost town and abandoned mines in the peak-ringed basin. 4×4 vehicles are permitted along this route during the summer, so keep an ear open. Immediately before the valley floor, a gate and small parking lot indicate the destination reached.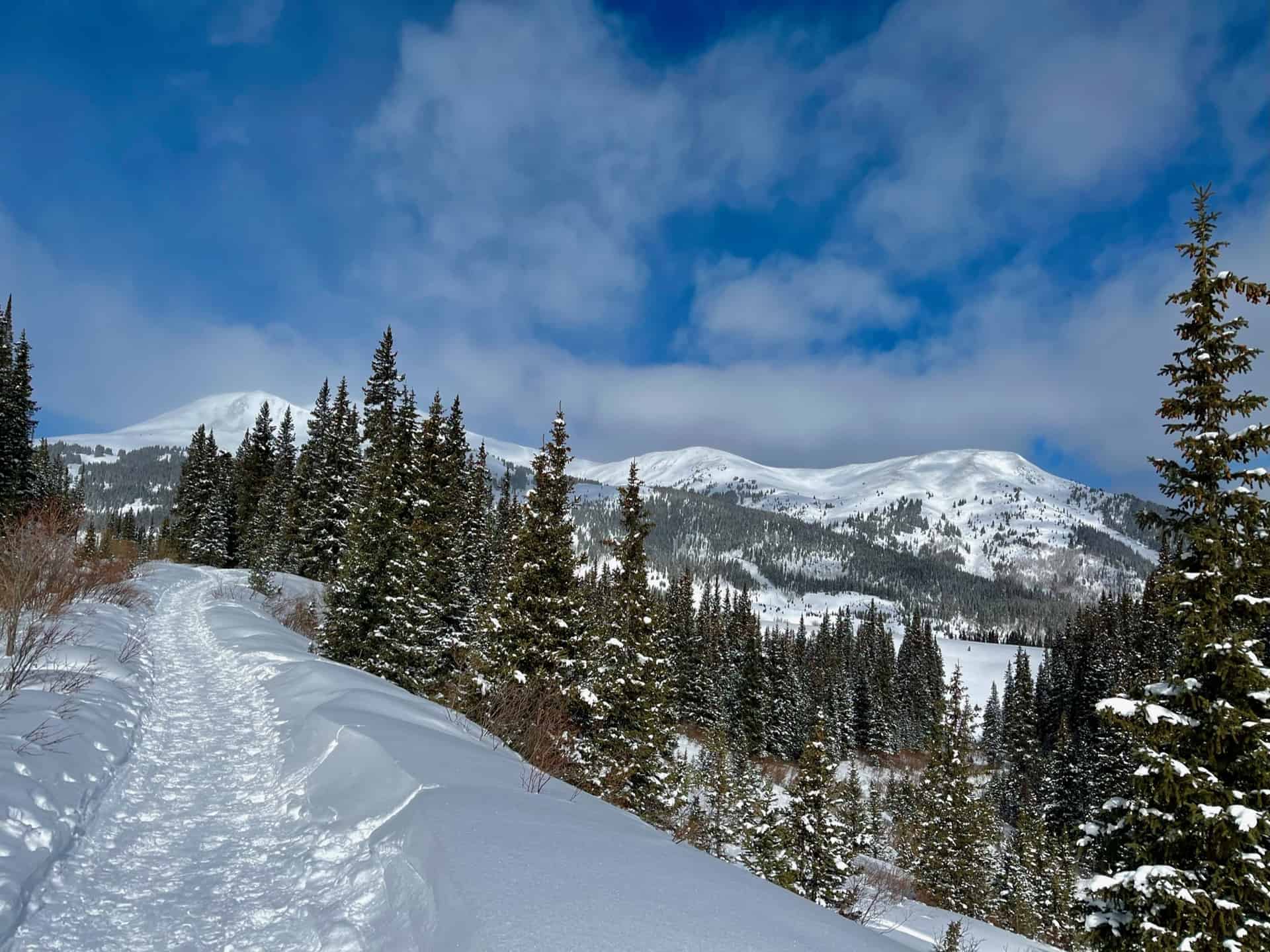 Along the Mayflower Gulch Trail
Some advanced hikers double-back and gain the ridge to the north. (Note: do not attempt without GPS, a reliable map, and alerting others to the plan.) This leads up to Atlantic Peak, a 13er sitting between two others — Pacific Peak to the north and Fletcher Mountain to the south. Both Atlantic Peak and Fletcher Mountain tower over the gulch, so whether one views them from above or below, they greet visitors with majesty. After strolling the valley floor and taking in the gorgeous views, the return hike simply reverses the route, following the trail back down and out of the valley.
Ghost town cabin window view!
Tips & Resources for Hiking Mayflower Gulch
TIP: Due to the ease of access, parking can fill fast, even in the winter. Also in the winter or early spring, "ski traffic" along I-70 can be unusually heavy on weekends during the morning and evenings. Therefore, this makes an excellent mid-week rest day to take a break from the slopes!
Trail Map: Mayflower Gulch Trail
Packing List: Always pack the 10 Essentials. Download our Hiking Guide to get the list and dayhiking packing checklist. Additionally, take some time to review our 10 Winter Hiking Tips.
Colorado Road Conditions: Colorado Road Conditions
After the Hike: Summer or winter, grab a slice at Mamma's Italiano! If there were a rebel's daughter who camped in the ghost town up in the gulch, she'd likely eat here and blend in with the menagerie of visitors.
Weather
Map & Driving Directions
Click for Driving Directions