This might sound irrelevant and maybe you haven't even thought about it before, but actually wearing a headband while practicing your asanas could be surprisingly game-changing. Yes, we feel you, we all know the drill too well: you find yourself all caught up in flowing through your sequence and you have to stop every two seconds just to fix your hair or to dry your sweat. 
And especially with more intense practices, this repetitive action can get quite annoying. If this resonates with you, that's probably a clear sign you should get yourself a nice headband! Because yoga headbands are not merely nice accessories but they can truly allow you to enjoy your practice in complete comfort and with a cool touch of style.
But which one to choose? The thing is that some headbands tend to be too tight, and may cause headaches as a consequence, while some others are too loose and simply don't do the job. But no sweat (indeed) because we're here to help you find the perfect headband for your practice, just read on our review to find out more!
The Top Yoga Headbands Reviewed
Find the right Headband for you
While I was on the lookout for a great headband for my yoga practice, I've stumbled across this amazing brand, and it completely caught my eye for the design and overall quality of its beautiful headbands.
Since I'm always interested in discovering more about new brands, I've decided to dig deeper to understand more about their story. And I have to say I was pleasantly surprised to find out that this brand is run by a young yoga teacher who, since she found herself constantly looking for a great headband for her practice, realized that action had to be taken and decided to help other yogis find the perfect headband that could be suitable to anyone, regardless of the purpose and style of yoga. 
So given the motivating story that inspired the founder and since I'm always a great supporter of small businesses, I've decided to give this headband a shot to see if it's really worth it or not. And I have to say that this headband has quickly become my go-to yoga accessory. Probably the first thing that catches the eye is the fact that it comes in a huge variety of different designs that can really suit anyone's fancy.
I've picked the "Dharma Yoga Headband" and I couldn't have been happier with this choice, I absolutely adore the pattern, the fabric is soft and comfy and incredibly adherent. So forget about readjusting your hair every minute because this headband will stay put, no matter what asana you're in. On top of it, it's completely adjustable to the size of your head and doesn't leave any mark on the skin.
And if it wasn't enough, it even comes at an incredibly convenient price!
Let's now briefly review its overall pros and cons:
Huge variety of different designs
Good quality, natural and non-toxic materials
Run by a small business
Stretchy and comfortable
Good grip
Amazing price
Since it's a rising brand it doesn't have many reviews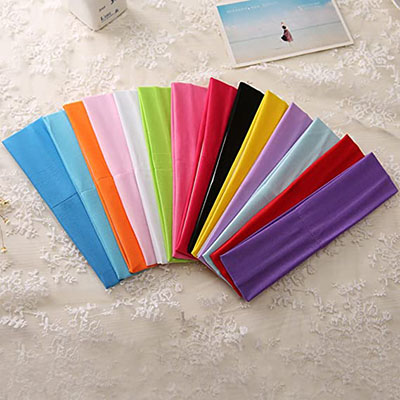 Best Budget Option:
2. Zapire 14pcs Mixed Colors Yoga Sports Headbands for Women – Soft Elastic Stretch Girls Athletic…
If you're looking for a good headband but don't feel like investing too much money in it, then you should consider this headband designed by "Zapire". What's really convenient about these headbands is that they come in a whole pack of 14 pieces, and for this, they've earned the top budget option on our review. They are soft and incredibly elastic and even super comfy. The designs are creative, fun, and colorful, so you'll surely find the one that fits your taste!
Despite their many perks, these headbands have a couple of rather relevant flaws, as some users complained that they're not really adherent and might tend to get loose with the time. But actually, scrolling down through their reviews you'll see that this is kind of outbalanced by many other positive reviews… 
So I guess that all in all, given their convenient price and catchy prints, it might be also worth just giving them a try to see if they can actually work for you or not!
Convenient price
Cool prints
Come in a pack of 14 pieces
Elastic and comfy
Tend to get loose with time
They might lack adherence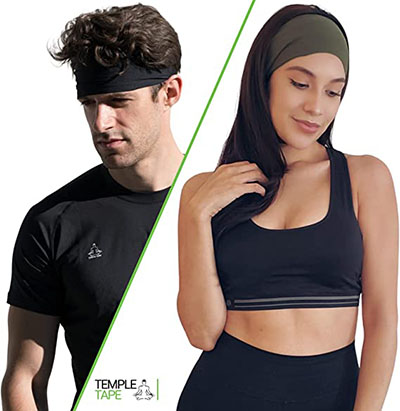 Best Sweat Absorbent Headband:
3. Headbands for Men and Women – Mens Sweatband & Sports Headband Moisture Wicking Workout Sweatbands…
Those of you who are into hot yoga, power vinyasa or Ashtanga, will surely fall in love with these headbands. Some users say that they're incredibly grippy, soft, and stretchy and claim they're perfect if you're an eager practitioner of hot yoga. 
As some of you might know, this super-intensive practice requires an accessory that can be both cooling and nicely absorbent, and these headbands by Temple Tape seem to be exactly the right ones for this purpose.
They're incredibly absorbent, super slim, lightweight and they even come at an incredibly affordable price! Plus, their designs are quite essential but come in many different colors.
Just a small yet crucial heads-up: Since they're made with a spandex material (which is a polyester-based material) they're definitely not suitable for those who are allergic to polyester. Likewise, if you know you have sensitive skin, you should definitely try to avoid such products: when you sweat the pores get open and could cause skin irritation so try to stick with cotton or similar anti-allergic materials.
Incredibly absorbent
Ideal for hot yoga
Slim and lightweight
Great variety of colors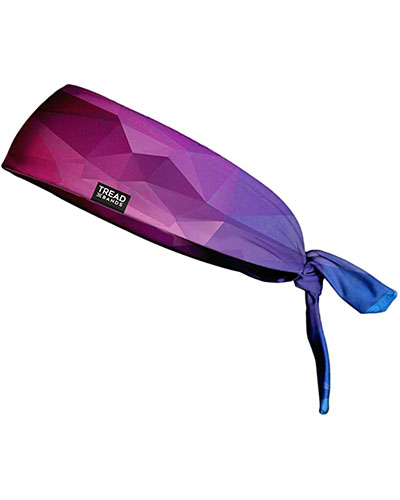 Best Non-Slip Headband:
4. TREAD BANDS TreadBands All Terrain Tieback Non Slip Headband – Designs (Rainbow Blocks)
These headbands are by far the grippiest ones available on the market because their adherence is great but at the same time doesn't squeeze your head giving you a terrible headache as most headbands do. They are nicely comfortable and will surely stick to your head in any pose you like: from inversions to forward-folds, you will never be bothered by readjusting your headband every now and then.
And this is because they come with a useful foam rubber strip, that allows you to adjust the headband to your head size and a smart tie-back design which ensures great adherence and perfect fit. On top of it, I personally found the designs really cool and fantastically variegate.
The only cons are the materials, as some users claim that these headbands are cheaply made and can be a little uncomfortable when used for longer periods of time and may leave some light indents on your skin as a result.
Excellent adherence
Great design
Huge variety of prints
Might be a little uncomfortable when worn for longer.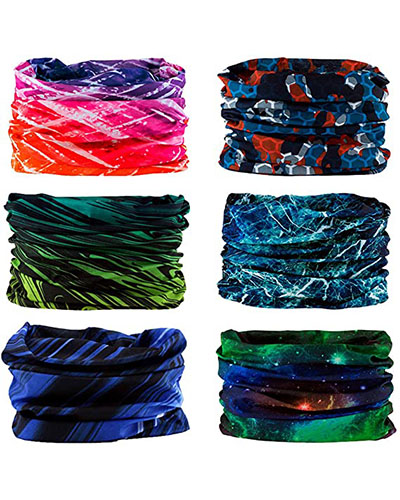 Best Thin Headband:
5. LOTUYACY Outdoor Wide Headband, Neck Gaiter Windproof Scarf Sunscreen Breathable Bandana for…
Are you maybe looking for a cool, thin, headband that doesn't cover your whole forehead? Then look no further because this one by Lotuyacy is exactly for you!
It is really stretchy, grippy, and sweat-absorbant, but at the same time, allows your skin to breathe free. What I also personally liked about these headbands is that they come in packs of six creative patterns and there are even 25 different packs you can choose from!
Furthermore, another thing that I really appreciated about these headbands is their size (18.5 x 9.8 inch) and the fact that they have a highly-stretchable circumference of about 20.5-24.5 inches, so it's really a perfect fit for heads of any shape and size.
On the other hand, the material might be even super stretchable and amazingly lightweight, but on the product description it's stated that these headbands are made of 100% Polyester, so it's a total thumbs down for the fabric, but that depends on your priorities. So if you're not allergic to such material and don't mind getting something that it's not super eco-friendly, then this should not be a massive issue for you.
Thin and lightweight
Comfortable
Adjustable
Adherent
Sweat-absorbent
Realized with cheap materials
As you might know, nowadays say Lululemon, say guarantee. This ultrafamous brand has basically become the most beloved brand in the yoga community and athleisure, as it's known for its cool sportswear and luxury price tag. 
And this headband is certainly not an exception! What I really liked about this fantastic "Fringe Fighter" headband is that is incredibly lightweight, and most of them are also reversible, so you'll get two headbands in one! The material is not the best (since it's made with polyester, so it's not eco-friendly) but is of a great quality: it's a special fabric called "Nulu", which is a sort of foam that is incredibly stretchy, grippy and sweat absorbent.
On top of that, I also appreciated its width, which is really ideal, so it's not too thin and not too wide, it's simply perfect for your forehead ensuring great comfort without leaving any unpleasant mark on the skin.
As for many other products from this brand, the two potential downsides are the price, which is quite high compared to other headbands, and the fact that comes in only a couple of different patterns.
Thin and lightweight
Comfortable
Adherent
Sweat-absorbent
Materials are not eco-friendly
Its price is quite high
Doesn't come in a great variety of patterns.
Yoga Headbands Buying Guide
So, have you already spotted the perfect headband for you? If not, we feel you, finding a headband for your practice can be a rather tricky quest. But as we said, we're here to help you, so if you're still in doubt about which one to choose, you could try checking out our buying guide, so as to know how to orientate yourself when looking for a nice headband.
That being said, let's now see what are the main, essential features of a great Yoga Headband:
Comfort
For me comfort is deadly crucial when choosing a headband for my yoga practice. I've tried so many beautiful headbands that looked simply perfect on the outside, and maybe I've tried them on and feel like they perfectly fit my head. But after a while, they'd either cause me severe headaches in the worst-case scenario, (and sometimes such headbands would also leave red marks on the skin)  or they simply get incredibly loose. 
And we all know that a loose headband is like a bicycle without wheels, it simply doesn't do the job. So, as we said, you should make comfort the top priority when browsing for a good headband.
Adherence
Alongside comfort, another essential quality of a good headband is adherence. We know how annoying it is when you have to readjust your headband each second because it gets so slippery, especially when you start sweating, that it won't stay put for more than two seconds.
A headband that's comfy but lacks adherence won't definitely fit the bill, so that's why I always encourage you to find a product that ensures a perfect grip on your forehead.
Quality-Price Ratio
As in most things, a golden rule when looking for your headband is always to keep an eye on its quality-price ratio. And it might sound obvious, but in this case, the only tool you have to know whether a product is actually worth its price is by checking its reviews. So, ideally, go for a product that features many reviews, so you can have a clearer idea of what to expect from it.
Because in some cases, the price could be based depending on the fame of the brand, rather than on its actual quality. So remember that it'd be best to always keep this in mind when you're on the lookout for your headband!
Design
I believe that just like anything aesthetic, the design of your headband is something that's completely personal. Nevertheless, I have to reckon that for me it's always great when I spot something that comes in a great variety of different designs, so it gives a wider range of choices for the clients.
Of course, the design of your headband should be just an added value, not an essential quality, but still, I guess that that's completely dependent on your priorities.
Final Thoughts
So finally have come to the end of our review: in this article, we've rounded up a list of the best yoga headbands that are currently available on the market. So we genuinely hope this will help you find the one that most suits your taste and purpose! 
As we've just seen, in our opinion the best option is the MandaBees Headbands, because they're super cool, comfy, cheap and when you buy such products, you're also supporting a small business, which is always nice. On top of it, given the huge variety of different patterns, you'll get to choose the one that best fits your taste.
That being said, please do let us know your thoughts on these headbands, tell us which are your favorite ones and why, we'd genuinely love to hear from you!
Namaste!