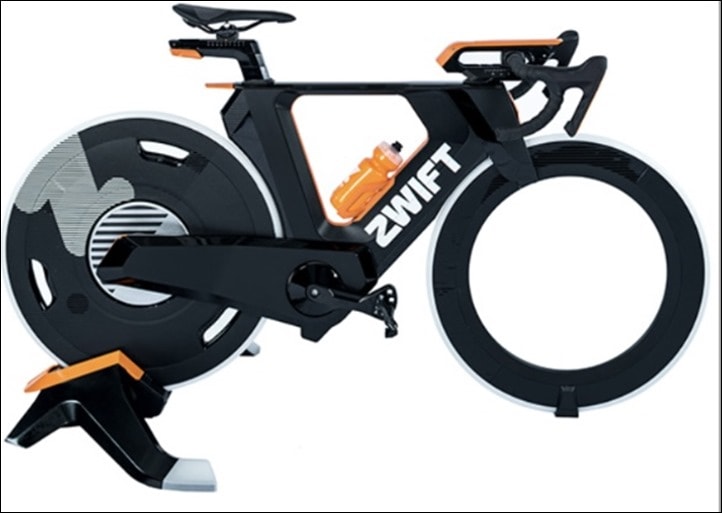 Zwift appears to have just pre-announced their own new Zwift bike & Zwift trainer, in a hardware purchasing survey that went out to a selection of users. The survey outlined two new Zwift products – a smart bike called the Zwift Ride, and then a direct drive trainer called the Zwift Wheel. Most notably, the Zwift trainer can be upgraded into the Zwift smart bike, which then includes illuminated wheels to basically make yourself a real-world glowing Zwift Tron bike. Seriously!
This is the first time we have seemingly real details about Zwift's previously announced hardware projects. For those just catching up here, Zwift has actually previously confirmed they were building their own indoor training hardware, after posting job listings that made it clear they were. From there, the company has steadily dripped out such plans, largely in CEO interviews, but also in various other ways.
Today's survey was sent on behalf of Zwift, by research firm Toluna, but appears to otherwise carry the usual Zwift formatting. Here's a copy of that e-mail: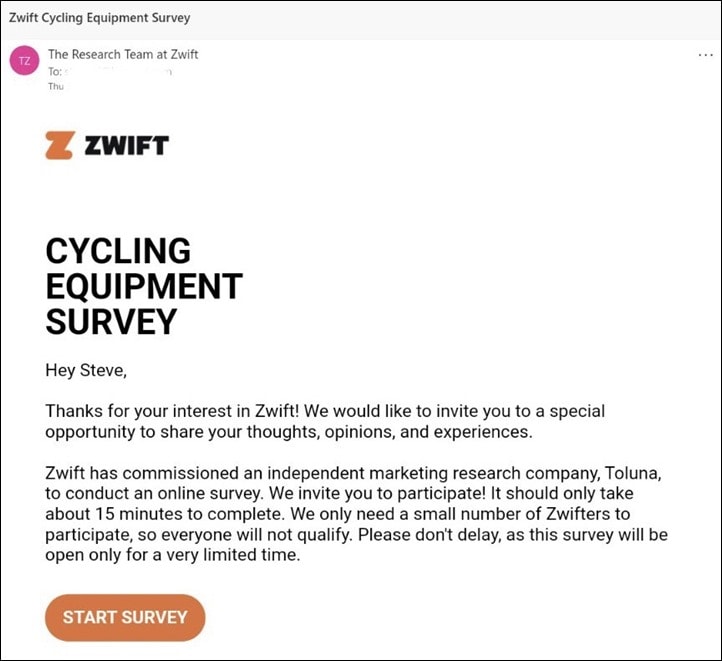 In this case, the survey was sent to longtime DCR Reader Steve Leonard, who shared a few screenshots he took from the survey.
The survey essentially has the user go into a fictional online store, where they pick from very non-fiction products. There were both trainers and smart bikes. In the trainer category there was the Wahoo KICKR, KICKR CORE, and Tacx NEO 2T, alongside Zwift's offering (the Zwift Wheel), while in the smart bike category, they included the wahoo KICKR Bike, Tacx Bike, Stages Bike, and Wattbike ATOM. The prices for those products were set to their standard list prices.
The Tech Details:
First up, let's take a look at the trainer, called the 'Zwift Wheel'. This is at first, admittedly, a bit confusing to look at. But essentially, it's a direct drive trainer that looks like a wheel. You can see that in this configuration, it doesn't include a cassette, but instead, that would be supplied/added afterward. So while this looks like a wheel sitting on a base, basically it's a direct drive trainer. You can see the metal-looking flywheel in the middle there, in a design very similar to what you have on a Tacx NEO series trainer.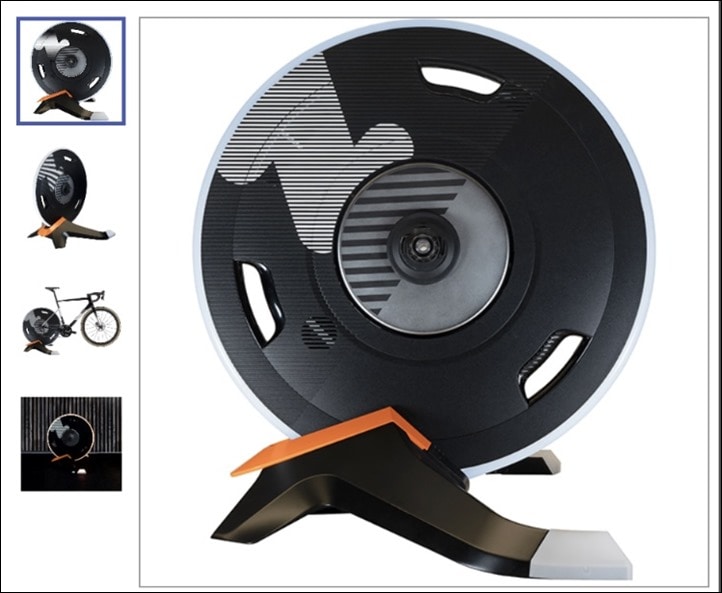 Below the trainer in the 'retail shop' is text that includes very specific details about what the Zwift Wheel includes, of which these specs line up very close to a Tacx NEO 2T. Notably listed in this:
– You supply your own bike atop it
– Max power of 2,200w (that's pretty standard)
– Stated accuracy of +/- 1% (also pretty standard in higher-end trainers these days)
– Wireless game controller for your bike's handlebars for steering, braking, and other game controls
– Downhill acceleration (aka forward drive acceleration to increase the wheel-speed going downhill)
– Gradient simulation – it doesn't appear to list a max gradient, but with these specs, I'd assume it'd be in the 20%ish range
– Terrain simulation – my assumption here is that is akin to the Tacx road surface simulation to feel cobbles and such
– Z Cog – a so-called single cog design that needs more than just this line to explain
– Upgradeable to the full Zwift bike (aka Zwift Ride)
So at this point, this roughly looks like a Tacx NEO series trainer in terms of specs, but within a gigantic wheel. Certainly, there are aspects missing like max gradient and such. But the most interesting item here is the "Z Cog" line. This combined with the fact that you supply your own bike atop it, is…interesting. In theory, in a virtual shifting world on a normal smart bike, your shifters don't physically move anything, but rather just virtually change the perceived effort/gearing. But if you're supplying your own bike, then that means your shifting is already there. Be it 11-speed, 12-speed, something older like a 10-speed, etc… That in turn means that your rear derailleur plans to shift something when you push shift/click your levers.
But in this case, it specifies "virtual shifting", which would imply that either the shifting is done from the secondary game controller buttons that were mentioned elsewhere, or…that they've got something else up their sleeve. In any case, it certainly sounds intriguing. Finally, price-wise this survey listed this option at £900 (~$1,214USD). Again, keep in mind the point of this survey was likely pricing focused, so different people likely received different prices.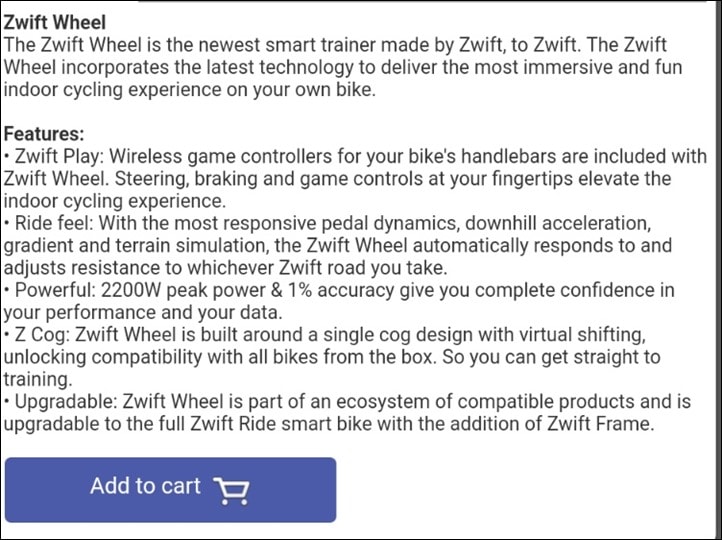 Ok, so next up we've got Zwift's smart bike, called the Zwift Ride. The first thing you'll notice is that it's actually effectively an accessory to the Zwift Wheel, which makes up the rear of the bike. Hence why in the Zwift Wheel portion they noted that it's upgradable to Zwift Ride. Basically, you're buying a bike frame here. They listed the price here at £1,700 (~$2,294). And again, remember the point was to compare this to other market options. But I would note that a $2,299 price is incredibly competitive to other market options which range up to $3,500 for the Wahoo KICKR Bike. This easily undercuts them and all other of their core competitors in every case. If that's a viable price on the table, then I'd be very concerned as Zwift competitors.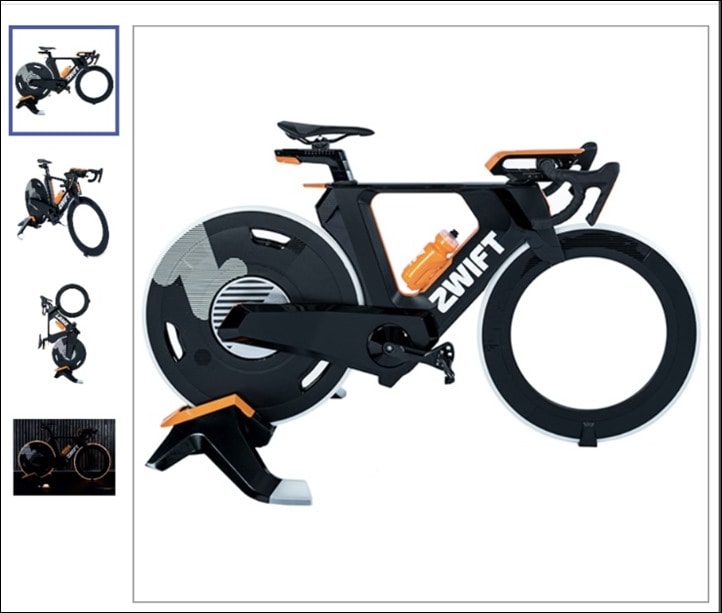 So, with the visuals out of the way, what are the specs here? Well, essentially it's the exact same as the Zwift wheel, but now with some fit/frame aspects:
– Max power of 2,200w (that's pretty standard)
– Stated accuracy of +/- 1% (also pretty standard in higher-end trainers these days)
– Downhill acceleration (aka forward drive acceleration to increase the wheel-speed going downhill)
– Gradient simulation – it doesn't appear to list a max gradient, but with these specs, I'd assume it'd be in the 20%ish range
– Terrain simulation – my assumption here is that is akin to the Tacx road surface simulation to feel cobbles and such
– Virtual Shifting from the aforementioned Zwift wheel
+ Added Full handlebar controls built-in, including steering, braking, and game controls
+ Added "immersive lighting" – again, just like the Tacx NEO series has below the bike and on wheels (you can see it in the dark photo above)
+ Ability to rotate bike upwards/vertically to save space (this is super cool!)
+ Designed to fit riders 5′ to 6'6" (152cm to 198cm), including multiple adjustment points
+ Multiple crank lengths shown (you can see the bear-claw style pedal interface design similar to the Wahoo/Stages bikes)
+ The Zwift Tron Bike front wheel design, with illuminated front/rear wheels
Did I note again that the thing appears to light up like a real-world version of a Zwift Tron Bike?!? While unfortunately I only have a single wide screenshot, you can clearly see in the darker tiny shot above, that they've incorporated what looks like an LED ring around each wheel, allowing it to change from white to orange (and probably any other color). If anyone gets the survey and clicks on the actual image for a higher resolution one, feel free to post it below and I'll update (along with any other photos from the survey).
Undoubtedly, like the Tacx NEO series lighting that's emulated below the bottom bracket above, the lighting is probably linked to in-game events. In the case of Tacx they tie it to intensity, whereas Zwift would have plenty of other things it could link to.
In any event, here's the full text from the survey: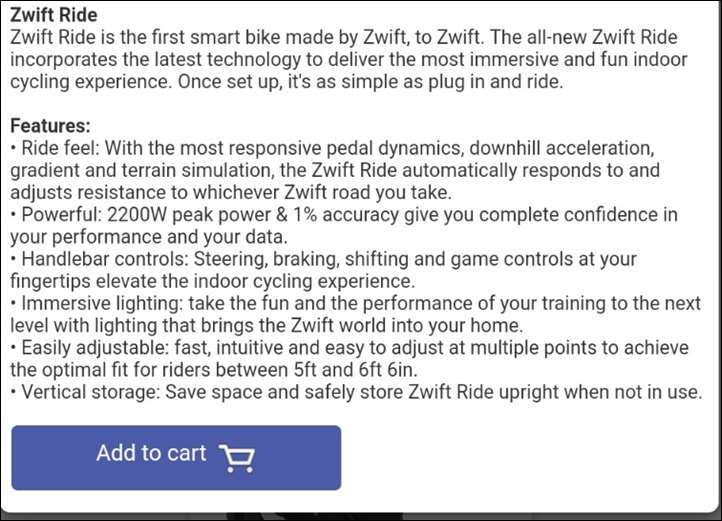 Again, like the trainer, there's certainly plenty of details missing here. More tidbits on fit for example, as well as protocols. And surprisingly, a lack of Wahoo CLIMB (or Elite RIZER) feature to rise/lower the bike. That's something that earlier job listings fairly clearly outlined. However, that's also something that would have significantly added both cost and manufacturing complexity to the build. And since numerous industry sources have noted that Zwift has really struggled on the manufacturing selection aspects here, cutting out something like that could save them significant time in getting this to market.
Final Thoughts: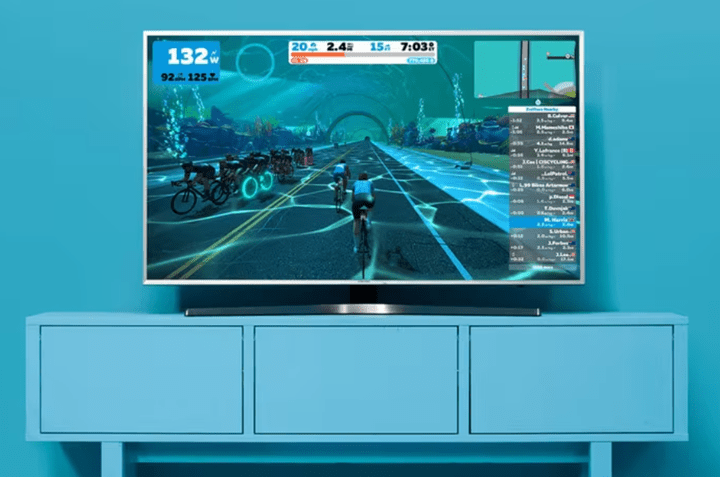 As with any survey from a company, the point of them is to solicit feedback on ideas. In this case, it appears largely to solicit feedback on pricing, since the context was a fictional store with all other items being real-world products. In that vein, one could argue this bike and trainer aren't real. But that'd be a silly argument. Not to mention, the ability to upgrade a smart trainer to a smart bike is brilliant. It's been hinted at before, but to see their thinking here is super smart.
Far too much design, wording, branding, and tech ideas went into this survey for these products to be fake. Not to mention it mirrors elements of some earlier Zwift hardware surveys the company has done. Now, there could be other options offered to other survey takers. For example, with added features at different price points. Only time will tell.
Of course, things not outlined in these little retail store snippets are other backend software features on these units that are tied to Zwift as a platform. For example, the lighting hints at some of that. As does the "game controls" bit mentioned with both units. Braking too. And undoubtedly, like any product store listing, there's only a handful of features that make the cut for the countless features that actually exist.
But what Zwift has presented here seems very much in line with everything they've discussed in the past, combined with the painful realities of trying to ship a first-gen product in 2022, in terms of world manufacturing, chipset, and logistics availability (something Zwift CEO Eric Min highlighted just over two months ago in an interview). As an example of these gaps, Zwift has often referred to Peloton and their complete bike solution as an example of where they want to go hardware+software integration-wise. Yet, we don't see an integrated screen here. Meaning that Zwift is still reliant on yet another device (e.g. tablet/TV/computer/etc).
Still, these offerings seem to hint more towards competing with their current partners, rather than offering a game-changing experience.
Nonetheless, it'll be interesting to see where Zwift goes with this, and what their ultimate timing is on actually getting something like this to market. Every company has to start somewhere on the hardware train, and trying to 'boil the ocean' features-wise on a first-gen smart bike didn't appear to be working well for the company. So shifting directions to something more achievable is probably the right first step for them to take.
With that – thanks for reading!